Yes Kano Tonga Zandalle (Sonia)
d.o.b. 25.07.1999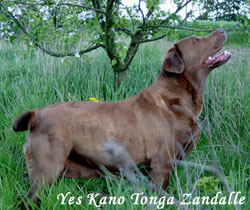 She a found bitch, our first female, with wonderful character. Bought from Zandalle as a dog for our child. We decided to show her and she got excellent notes and some titles: Junior Winner, Show Winner, BOS, 2x CWC and 3rd place in open class at European Dog Show.
Sonia in judges' eyes:
- typical, elegant bitch, very well built, strong head, excellent bone and movement, good topline, very good tail set, correct bite.
Ch.Pl. Ch.Mł.Lux 2xBIS BELLE ARMANIOF THE MUSIC FOREST

Ch.Lux IKOR DU BIOS DES LILAS

Int.Ch. Ch.T. MARDAS MARINE

MARDAS MASTER MARINER SHCH.

MARDAS MULLED WINE

BALTAW BILLET-IXUX

BOOTHGATES HEADLINGER

CHOCOLATE GEMINI OF BALTAW

NEO & Int.Ch. BDSSG'94 FAIRYWOOD'SUNIC SENNA

BONALBAIN SHADOW

BOOTHGATES KOUNTRY KRAFT

BOOTHGATES HERE IS THE NEWS FRON DONALDBAIN

FAIRWOOD'S GAIA

LEIJE LADY'S MAN

FAIRWOOD'S ACER

HERA Ulvseth's

BIRDSONG'SCHARMING CHARLIE

PONGO

TJOTTE'S BILLY THE BRUNO

BUSAN

POOLES HIS MISTRESS

HUNTINGDON'S HE'S A HURRICANE

HALLYOUFF MADAN

RONJA

DKCH DUNSIANE CHRISTOW

DUNSINANE LOCH LOMONN

CURNAFAME VICTORIA

MOCCA

FALLYTUFF FLINT

MISHA