Beatrix z Krainy Narwi (Vera)
d.o.b. 26.05.2002
HD-A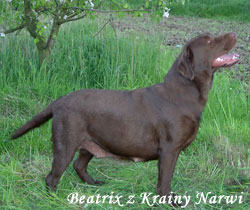 She's an excellent, happy, with big temperament, chocolate girl. We're very happy to have such a wonderful female. Vera took part in 7 shows. She got 1 silver and 2 bronze medals, with very good and excellent notes.
Vera in judges' eyes:
- a female with correct proportions, good front, correct scissors bite, good movement, very good topline, good quality of a coat, good tailset, carried typically for a breed.
M³.Ch.Pl. Ch. Pl. MACHO Górska Fantazja

M³.Ch.Pl. Ch.Pl. ELVIS CHOCOLATE Górska Fantazja

Ch. Zw. Pl. Zw. Kl. ROCKZSTAR'S BUCKIE OF MACDUFF

KUPROS MACDUFF AT ZANYS

JUMA'S NINA PRETTY BALLERINA

Ch. Pl. Zw. W. BOB 2 x CACIB CHOCOLATE COUNTRY GIRL OF DALWHINNIE

CAMBREMER BRAVO OF SILRONRAYS

FRESH FIELD GLADYS

Ch.Cs. BOOTHGATES KOLOUR SCHEME

FARRING FORD GO GERRY GO

BOOTHGATES HEADLINER

FARRINGFORD MARIANA

BOOTHGATES THE ACTRESS

BRANDHAMS SHOWSTOPPER

JADZ MAIL ORDER MADGE

YES KANO-TONGA Zandalle

Int.Ch.Pl. Lux. LTU. Zw.Pl Zw. Eur. '99 BEELE ARMANI OF THE MUSIC FOREST

Ch.Lux. IKOR DU BOIS DES LILAS

MARDAS MARINE

BALTAW BILLET-DOUX

Int.Ch. Ch.Ned. Lux. BDSSG'94 FAIRYWOOD'S UNIC SENNA

DONALBAIN SHADOW

FAIRWODD'S GAIA

HERA Ulvseth's

BIRDSONG'S CHARMING CHARLIE

PONGO

PODLES HIS HISTRESS

RONJA

DUNSINANE CHRISTOW

KOCCA